Venice Duck Hunting
2022 – 2023 Louisiana Duck Hunting Seasons
November 12 – December 4 & December 17 – January 1 & January 9 – 29
Youth only and Veterans only weekend: Nov 5-6
Duck Hunting in Venice Louisiana's vast estuary system has long been known as the premier hunting destination in the US.
Venice Hunting Guided Trip Information: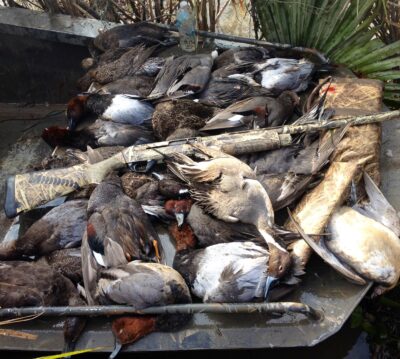 Located at the end of the Mississippi Flyway, Venice provides the most diverse selection of ducks in the state. Each fall the ducks come by the hundreds of thousands to this area where food will be plentiful and over 200,000 acres of habitat. It's not unusual for hunters to take every species of puddle duck and southern diving ducks. Canvasbacks, redheads, pintails, mallards, gadwalls, widgeons, teals, shovelers, and scaups all come readily to the decoys.
The Louisiana waterfowl season runs from November to January. Our duck season is divided into two splits. The first is in November, and the second split commonly opens from mid-December to late January. Interested hunters should make your reservations early to obtain your preferred time slot. 
Hunts are $250.00 per person.
Guides will take up to three hunters. We will supply the boat, decoys, calling, and retrievers. Hunts will start from either daybreak till noon or from noon till dark. Make sure you visit the link below for hunting license information and the gear and clothing you should bring.
Click here to see what we recommend that you bring
See more pictures of our clients! (opens new browser window)

Venice Outdoors Hunting Reservation Form.