Venice LA Lodging
"THE CONDO" is available for lodging at the Venice Marina.
$250/ Night Sleeps 6/7 Comfortably 
It is the perfect place to stay for your fishing and hunting trip. Just walk downstairs to your chartered boat. The boats are docked downstairs for your convince.  It's just that easy.
Venice is a sportsman's paradise with world-renowned offshore fishing, excellent inshore fishing, and duck hunting.
THE CONDO is the place to stay on your next trip to Venice.
How To Make Your Reservation.
For more information about THE CONDO and its availability  email tripinfo@veniceoutdoors.com or call 985-637-8901
You can also fill out the booking request form and we will get back to you promptly to you know if your date/dates are available.
Condo Specs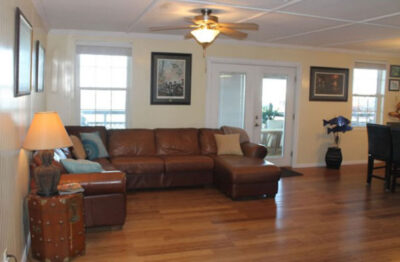 THE CONDO comfortably sleeps 7 with two bedrooms and one bath. One room has 2 sets of bunk beds. The second room has a bunk bed and a full bed. All of the bed linens and towels are provided. There is a full kitchen to cook your catch or simply use the gas grill for dinner.
2 Bedrooms and 2 Baths
Sleeps 6-7 very comfortably
3 bunk beds and 1 full bed
48 inch TV with Satellite/DVD
Full Kitchen- stove, microwave, refrigerator, coffee maker
Bed Linens and towels supplied
Big Deck/Outdoor sitting /Gas Grill Pit
$250/Nightly Rate
$75.00 Cleaning Fee (per stay)
______________________________________________________________________________________________
The Venice Marina Condo Rules and Regulations.
Please make sure that all members of your group are advised of the following information.
Check-In and Check-Out
CHECK-IN time is 3:00 pm. (Earlier arrival may be available)
CHECK OUT time is 10:00 am.
Please vacate the property no later than 10:00 am so that we can have it ready for the next guests. If you stay past 10:00 am, you will be charged an additional night's rental. Sorry, no exceptions. Please have all your belongings out of THE CONDO if you will be fishing the next day.
Pet Policy– Positively no pets are allowed inside the condo.
Smoking Policy– No smoking is allowed inside the condo. Please use the outside porch and deck for smoking. Please use an appropriate receptacle for cigarette butts. Do not throw them on the deck, porch, or in the water.
Towels and Linens– Towels are provided for bathing and are not to be taken out of the condo. They are not to be used to wash boats, vehicles, etc. Linens, blankets, pillows, mattresses and comforters are not to be taken or used outside.
Cleaning– Prior to departure, please wash and put away dirty dishes and remove food from the refrigerator and freezer. Garbage should be bagged.
Outdoor Areas– Outdoor areas must be cleaned and returned to proper order prior to departure.
The BBQ area is available for use. Please turn the propane bottle off and clean the grill after use.
Neighboring Properties– Please be considerate of neighbors. Do not use items from outside their houses (tables, chairs, etc.)
Occupancy – The maximum occupancy is 8. This is the maximum number of people that may sleep in the condo.
Activities Not Allowed
No drinking by minors on the property
No illegal drugs on the property
No activity that would disturb neighbors including rowdy behavior, public nudity, loud, drunken, or other obnoxious behavior.
No loud music
Garbage- There are dumpsters located in the parking lot.
Sanitation– The condo has a waste treatment tank. Do not dispose of feminine products, baby wipes, paper towels, or any other items in the toilet. Toilet tissue is the only thing that should be flushed. Other items will create problems that may cause toilets to back up.
Maintenance– We try our best to maintain the property and keep everything in proper working condition, however, we are sometimes unaware that something needs attention. If you find that something is broken or needs attention, please notify us. Also, if something accidentally gets broken, please let us know so that we can replace or repair it prior to the arrival of the next guest.
Departure Check List:
Wash and put away dirty dishes, pots, etc.
Remove and dispose of trash and food in the refrigerator, freezer, and cupboards
Return tables, chairs, and barbecue pits, to the areas where you found them
Turn off all lights, lock doors and windows
Turn off all heaters in cool weather
Damage and Theft- We ask that you respect the property. You will be responsible for any damage to property or missing items. We understand that accidents happen and we ask that you report any damage immediately so that we can arrange for repairs or replacement as soon as possible.
PLEASE READ ALL POLICIES CAREFULLY. BY PAYING FOR A RENTAL, YOU ARE AGREEING TO ALL CONDITIONS AND POLICIES.
Thank you for staying with us. Please let us know if there is anything we can do to make your stay more enjoyable.
The Condo
Reservation Request